Discovering Knysna & Surrounds – Sedgefield Markets
Posted on June 11, 2013 by Elephant Hide Lodge in Blog
Sedgefield Markets 
WILD OATS, Scarab and Island Markets
WILD OATS Farmers' Market, Scarab craft market and Island flea market are located outside of Sedgefield at the turnoff to Sedgefield Island. Although they are 3 independent markets, the trio makes for a vibrant Saturday mornings entertainment.
The Farmers market is its 13th year and is internationally famous. The market continues to attract the enthusiastic attention of both locals and tourists who consistently return for more of its festive fare.
It is a showcase of locally-produced foods, including free-range meats, chicken, lamb, dairy and cheese, the market also specializes in fresh-from-the-field veg, freshly baked and bottled goods, as well as a wide variety of breakfasts from scrambled egg croissants to a full English brekkie.  Need for a picnic basket? – Fresh bread, sausages, samoosas, olives, cheeses, vegetables, desserts – all local produce from talented producers in the area.
The Scarab Craft Market to the far east of Engen Petrol Station is the source of the best authentic, handmade craft on the Garden Route. There are games and a playground for the kids, original clothing and décor items and wood-turning demonstrations. Paper-making,  Woodwork, glass work, beading, jewellery, Caftans, homemade preserves and art, the list is endless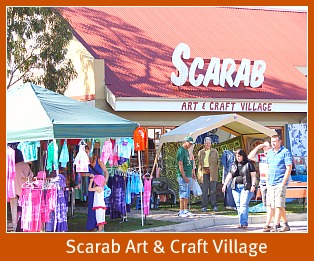 The flea market is bursting with 2nd hand books, unique gift ideas, yummy foods and interesting people.
These markets are a must-do for visitors to get a feel of the local colour. As Anne From Uk said "A colourful celebration of life" (Tripadvisor)